The process of demolishing a building involves heavy machinery to crush concrete and separate valuable materials that can be reused. Current methods consume quite a significant amount of time and money in order to safely disassemble the building, extract parts, and transport the materials to off-site centers for repurposing. Furthermore, these processes use a large volume of water to prevent dust clouds from forming as a result of the demolition. Seeing this problem as an opportunity for innovation, a Swedish designer by the name of Ömer Haciömeroğlu aims to reduce the time, money, and materials needed in demolition with his innovative concrete-eating robots.
Pour smarter, build stronger.
Get the Concrete Pour Checklist today!
"The ERO [short for "erosion"] Concrete Recycling Robot was designed to efficiently disassemble concrete structures without any waste, dust or separation and enable reclaimed building materials to be reused for new prefabricated concrete buildings," explains their creator, "It does so by using a water jet to crack the concrete surface, separate the waste and package the cleaned, dust-free material."
Click here to learn more about sustainable concrete!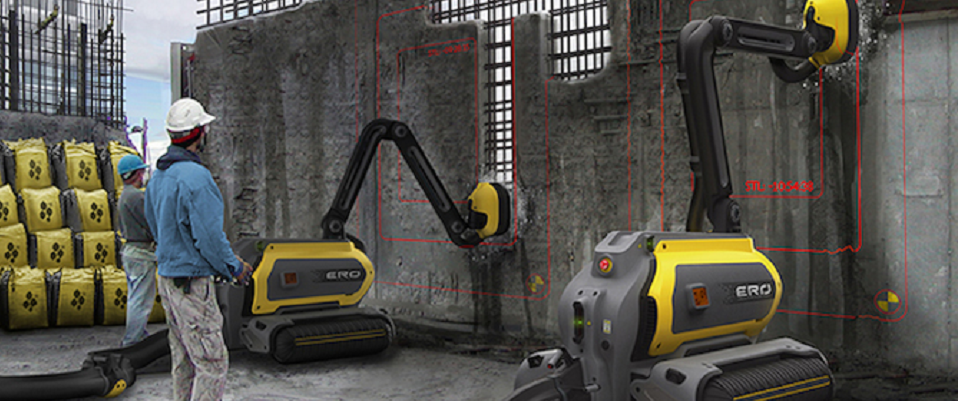 Photo credit: https://www.fastcoexist.com/3028697/this-concrete-eating-robot-can-recycle-an-entire-building-on-the-spot
Not only will these robots execute demolition, but, pre-demolition, a fleet of the ERO robots will scan the buildings in order to determine the best route to execute the procedure. Once the robots are stationed in their optimal locations, they essentially erase the building by demolishing concrete with high-pressure water jets:
"The ERO deconstructs with high-pressure water and sucks and separates the mixture of aggregate, cement and water. It then sends the aggregate and filtered cement slurry separately down to the packaging unit to be contained."
After demolition is completed, there is no waste that needs to be sent to landfills or other centers for further processing: "Even the rebar is cleaned of concrete, dust and rust and is ready to be cut and reused immediately."
In 2013, ERO won the Student Designs category of the International Design Excellence Awards, as well as placing as a runner-up for the Core77 Design Awards. Mr. Haciömeroğlu has also worked on various other innovative projects, such as the C-Thru: Computer Vision for Fire and Rescue, and C-Thru: Smoke Diving Helmet, as well as the Gland Organ Monitoring IV Fluid Pump. Descriptions of these projects can be found on Haciömeroğlu's website.
This technology is just one example of how construction is getting smarter as an industry. From concrete-eating robots to real-time concrete sensors, a technological revolution is underway in this industry and we're excited to see what's coming next!
Click here to learn more about Giatec's wireless SmartRock sensors!
Sources
*Editor's Note: This post was originally published in September 2016 and has been updated for accuracy and comprehensiveness.