Giatec is excited to announce that we've entered into a partnership agreement with industry giant PCL Construction.
With offices all over Canada, the United States, Australia, and the Caribbean, PCL Construction is one of the largest contractors in North America and is leading the industry with its implementation of innovative, cloud-based concrete testing solutions.
As part of its agreement with Giatec, which was made official in October 2017, PCL Construction has approved the use of SmartRock concrete maturity sensors across all the company's projects in all their locations.
Faster, Cheaper, and More Reliable Concrete Strength Testing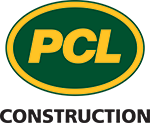 To date, over ten PCL Construction offices have had overwhelmingly positive experiences using SmartRock2 concrete temperature and strength sensors to keep up with aggressive construction schedules.
"It [SmartRock2] seemed like the only option at a price point that would work effectively for our scale of operation," says April Smith, Field Coordinator for PCL during the construction of a 55-storey high-rise in Edmonton.
Shawn Kitt, Superintendent on the same project, adds:
"For me personally, the next project I go to, whether it's a bridge, a low-rise construction, or a high-rise building, if I'm pouring concrete, I'm going to seriously think about using this technology rather than field cures – just because I have seen the advantages first hand.
Read the full story on how PCL Construction used SmartRock concrete maturity meters to optimize project efficiency in a 55-storey high rise in Edmonton.