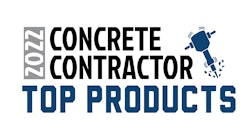 The Concrete Contractor 2022 Top Products award recognizes the attention the products, tools, and equipment captured from readers of the Concrete Contractor magazine as well as the construction professionals on ForConstructionPros.com.
The modern concrete industry pushes contractors to work smarter, more productive, and be as efficient as possible. These solutions were designed to not only help overcome the challenges contractors face on a daily basis but do so with innovative ideas and the ingenuity for them to be successful in the years to come.
Giatec's SmartMix is a web-based dashboard that enables producers to optimize concrete mixes and predict their materials' performance.
With the SmartMix dashboard, producers can adjust the proportions of their concrete mixes, such as the use of chemical admixtures and amount of cement, to achieve the lowest cost and carbon footprint.
They can also use the system to analyze mix performance and predict performance variations as materials or conditions change. SmartMix does this by utilizing Roxi, the machine learning algorithm trained on the largest dataset ever collected on concrete performance.
With millions of datapoints used to train Roxi, the program's suggestions ensure that these adjustments will meet a mix's designed compressive strength and other performance criteria.
Learn more about the products, tools, and equipment highlighted by ForConstructionPros in this article.