Eliminate Third-Party Lab Expenses & Cylinder Break Tests with SmartRock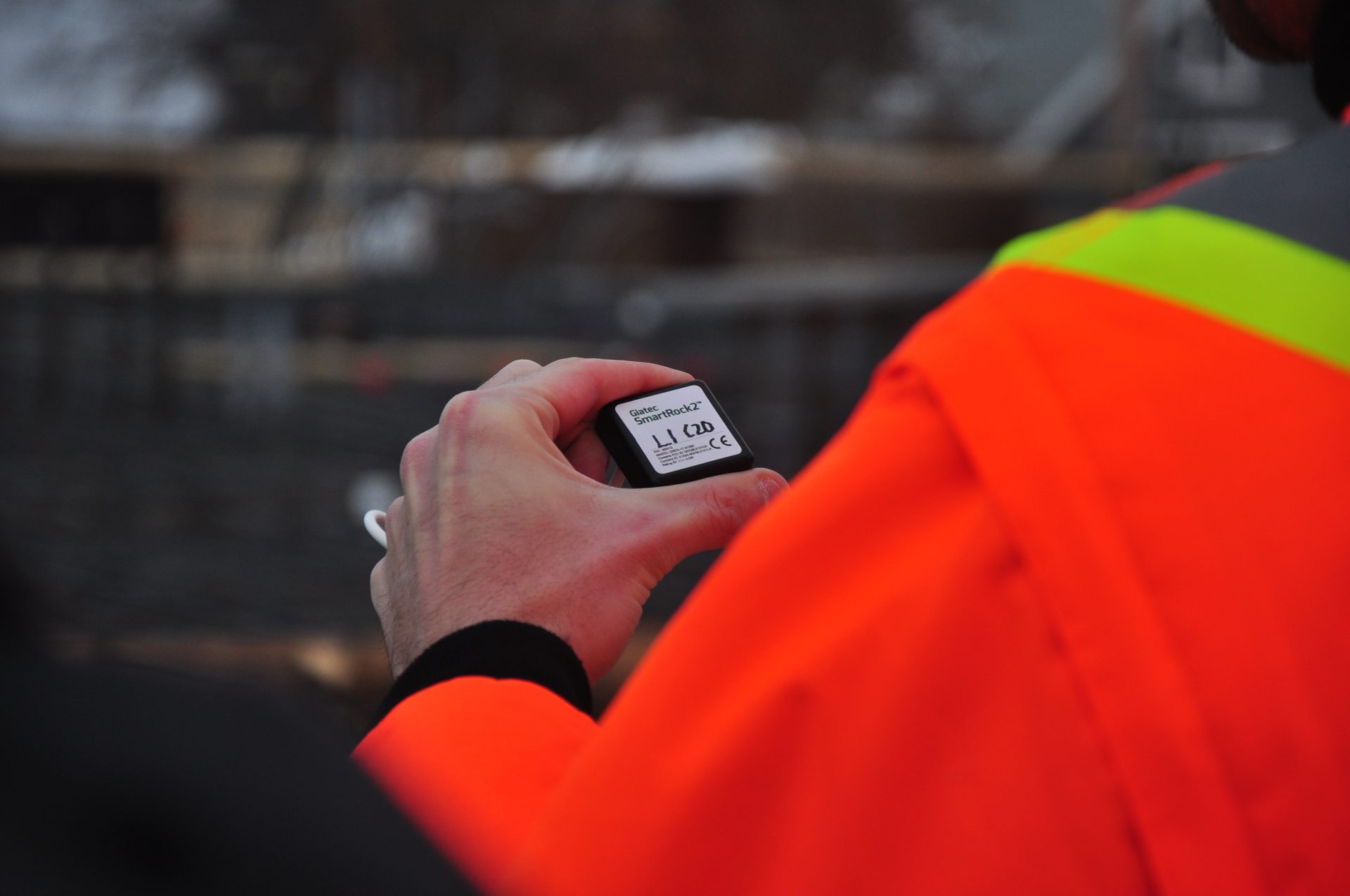 Despite the continuous development of IoT devices for concrete monitoring, the construction industry is still reluctant to adopt new practices, such as implementing wireless sensors, like SmartRock, on a jobsite, rather than using break tests to measure concrete strength/maturity. Although the use of break tests has been common practice in the construction industry for decades, it does not mean that it is the most accurate and reliable method in which to obtain strength data. In fact, improper handling and transportation of field-cured cylinders from a jobsite to a testing facility can skew the strength/maturity data of the specimen, resulting in a weak mass concrete element.
Why Use Wireless Sensors?
The maturity method used in SmartRock sensors is based on an equation that considers concrete temperature, time, and strength gain. This process can potentially address many immediate challenges facing the concrete industry such as predicting appropriate time for form work stripping and post-tensioning, especially at low temperatures while the strength development of concrete is hindered. Such data further allows you to optimize your concrete mix design.
In adopting the use of wireless sensors on site, contractors not only cut costs but also ensure a sustainable approach to test concrete temperature and strength. Furthermore, not having to rely on a third-party testing facility saves significant time. With the SmartRock app, users are able to obtain temperature and strength/maturity data in real-time directly on their phones or tablets.
Curious how SmartRock can enhance your jobsite? Click here for more information!
Who Benefits from SmartRock?
Engineers
Concrete maturity sensors can provide engineers with real-time data which can be accessed on any mobile device and distributed to all team members through the cloud. The ability for the sensors to provide fast results allows for well-informed and quick decision making on-site.
When compared to break tests, the concrete maturity test provides more accurate and reliable results and avoids inaccuracies associated with lab tests. Furthermore, continuous logging of concrete temperature and strength, updated every 15 minutes, allows contractors to reduce liability in case of structural failure. In this way, information regarding the quality assurance and quality control of your concrete structure is more accessible to you.
Project Managers
As a non-destructive approach, project managers value concrete maturity meters due to their ability to collect data measurements on their own. Knowing the information that is collected from these sensors is accurate, project managers can make decisions immediately and with confidence.
Not having to wait for results of cylinder break tests also drastically reduces the costs associated with labor and equipment. This also eliminates the need to employ a third-party testing lab.

Field Personnel
Forget having to untangle, cut, or fuss with wires. With concrete maturity sensors, wires are a thing of the past! Having wireless sensors also means no longer having to rely on break tests to test the strength of your concrete, saving hours, even days, on your projects' schedule.
Real-time monitoring of early-age concrete strength allows contractors to proceed with critical operations like form work removal, post-tensioning, and shore stripping much sooner than if they were relying on laboratory break tests. In addition, sensors are fully embedded in the concrete and are easy to install. Simply label the sensor, install in onto the rebar, and pour your concrete.
The SmartRock sensor can monitor data in real- time, giving field engineers live feedback on their concrete strength and temperature. The application, a free Android/iOS mobile app, allows you to access and analyze all of your data onsite at any time during the concrete setting and hardening phases.
Wireless sensors are considered a more precise and efficient standard. It has been adopted by building codes and proven in thousands of projects. It is a modern approach to building concrete structures faster and a way to safely test concrete pours.
Interested to know how industry leaders benefit from wireless sensors? Read our case studies!
*Editors Note: This post was originally published in March 2016 and has been updated for accuracy and comprehensiveness.
Testimonials from industry leaders using SmartRock wireless sensors to measure temperature/strength onsite
Jon Belkowitz, PhD
Head of R&D at Intelligent Concrete
"The Giatec SmartRock device is the next wave in concrete maturity technology. This new and cutting edge concept puts quality control and quality assurance back into the hands of the concrete manufacturer and for the first-time ever, in the hands of the contractor. Operating the SmartRock sensor is intuitive and the confidence it provides is priceless."
Walter H. Flood, P.E.
Principal at Flood Testing Labs
"Monitoring of the real time strength using SmartRock has allowed us to advise airport personnel when to open a runway for use on critical 56 hour closure. Their ability to remain below the top slab elevation allows workmen to place and finish the concrete without disturbing the sensors. The software has been excellent in strength estimation."
Allan Hayes
Construction Quality Manager at Regional Rail Partners
"The SmartRock has been a good investment in that it's extremely user friendly, convenient, and saves us time. I especially love that it's wireless, because now we don't have to go looking under blankets to find sensors or worry about making a physical connection. This alone saves us about an hour every time we record temperature."