Beware of New York's Aging Infrastructure
With a harsh winter approaching us in North America during the year 2015, with no prospects of it getting any warmer anytime soon, the reality of depreciating durability in our infrastructures is upon us. New York City is estimated to witness a major snowstorm this coming week, but the state of the city's infrastructure does not seem promising to hold during these weather conditions. The winter of 2014 supported the argument against the city's infrastructure and its ability to sustain itself. The amount of potholes in need of filling rose by 100% in 2014 from the year 2013, and most predict this coming year continuously increase.
The city's roads are not the only infrastructures in need of repair; all major underground systems are at an extreme age and should be assessed for repair or replacement. With shocking numbers of the average city gas pipe being 56 years old and the city's sewage system being almost 85 years old, it's a wonder there hasn't been an infrastructural disaster yet.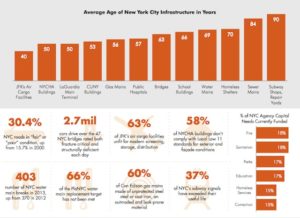 The above photo shows the shocking ages of all types of infrastructures within the city, and one begins to question the idea of bridges and school buildings being as old as the baby boomer generation. Although main infrastructures seem to be holding well, roads and highways need some immediate repair with long lasting solutions technology. It will also soon be time for many of these main infrastructures to be rebuilt and/or torn down. The city will need to prepare itself to take on all of these projects at once.
Hopefully those in charge of these projects are smart and use product asuch to test the sustainability of concrete. An example? Giatec's Perma device, used in a lab to test chloride permeability and diffusion. Luckily for our company the demand for our products will only increase with structural realities being what they are.
Sources